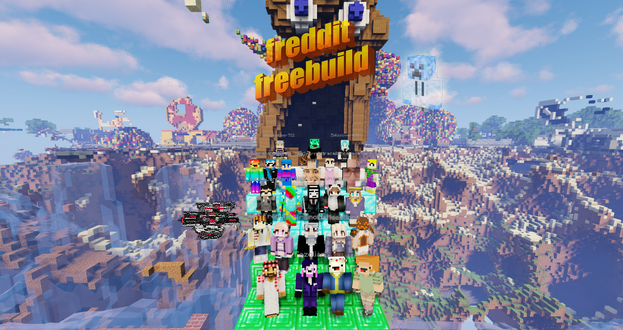 Welcome to the Freddit Freebuild Lore Wiki!
Provided by yours truly, The Broccoli Company.
What is this?
This wiki belongs to an online community known as Freddit Freebuild, a community that has existed since 2015. It began as a Five Nights At Freddy's based Minecraft server, but over time evolved into one of the most toxic salt-ridden communities known to man. Despite this, a lot of lore has spawned from the crazy shenanigans that happen on the server, so this wiki is an attempt at cataloguing all of that.
If you happen to stumble across this as an outsider, feel free to join our community by reaching out to one of the wiki's editors.
FAQ
Yes! It's exactly why we began heavily using the wiki instead of a document. It's easy for everyone to add information, and in turn, will make this the biggest collage of Freddit's history and lore yet.
If you are spotted pruning pages for no good reason you will be temporarily banned from the wiki. You will be confronted first though, so don't worry about any misunderstandings.
Click on the EDIT button on any page and you'll be brought to an easy to use editor. In the case of pages with tabs, right click one of the tabs to view the original page, from there you should be able to edit them accordingly. Do not edit the general page, as it solely holds tabs.
Yes, you totally can. But be sure to check if the page already exists to avoid duplicates. It's also recommended to try and make pages for red links (pages that are planned but have not been created yet).
We are putting effort into organizing the wiki, so don't worry if it's not perfect. However, we do want you to try. So be sure to check existing pages for reference.
How do I add infoboxes on the right side of my page?
Simply click on Insert and then on the dropdown menu Infobox. From there you should pick your corresponding infobox. If you're not sure, check pages similar to yours, click on EDIT, and then view what infobox they used.
You don't have to fill in every part of the infobox, and while you can input N/A everywhere, it's recommended to only fill in N/A if it's important to their character instead of something you don't know yet.
I still don't understand something!
If you have any issues, ask Leaf, Zoo, or Orb for help on the Discord. We are still learning things about editing with Wikia ourselves, but we are already quite far in using the tools it provides.
Using tabs on the wiki
On the new page, click on edit, then press the button with the 3 lines. Within the dropdown menu you should see source editor, go there. -Delete everything in the source, then paste the code below.
The code adds tabs with the pages you want to the blank page. However, this prevents your page having a thumbnail. In order to fix that, there is code that hides the image on desktop. On mobile, tabs are not supported, however they perfectly function as links. On top of that, the thumbnail image is visible on mobile, but it does not block anything despite the absolute position on desktop. Unfortunately this is unfixable due to nature of the mobile CSS.
In case you already have a page set up but want to use tabs, rename it accordingly.
<tabview>
 Page Name|Tab Name
 Page Name|Tab Name
 Page Name|Tab Name
 ...
 </tabview>
 
 <div style="
 visibility: hidden;
 position: absolute;
 top: 0px;
 right: 0px;">
 [[File:img.x|thumb|100px]]
 </div>

Edit the code accordingly. Add the page names, tab names, and thumbnail image.
Be sure to remove any tags from the tabbed pages. This is to avoid any clutter. Put all your tags on the new general page.
Below is an example of edited code.
<tabview>
 Sofia Ivy (Mainlore)|Mainlore
 Sofia Ivy (World RP)|World RP
 </tabview>
 
 <div style="
 visibility: hidden;
 position: absolute;
 top: 0px;
 right: 0px;">
 [[File:Sofia.png|thumb|100px]]
 </div>

Community content is available under
CC-BY-SA
unless otherwise noted.